THE TEN COMMANDMENTS
The Standard by Which We Are Judged
The law applies to those to whom it was given, for its purpose is to keep people from having excuses, and to show that the entire world is guilty before God. Rom 3:19
Rom 3:20 Therefore no one will be declared righteous in God's sight by the works of the law; rather, through the law we become conscious of our sin.
Rom 2:11 For there is no respect of persons with God.
James 2:10 For whosoever will keep the WHOLE law, and yet offend in ONE point, he is GUILTY of ALL.
---

Have you ever lied?
Prov 12:22 Lying lips are an abomination to the Lord
Rev 21:8 all liars, will have their part in the lake which burns with fire and brimstone:
Have you ever committed adultery?
Mt 5:28 But I say unto you, that whosoever looks with lust has committed adultery already in their heart.
---
Have you ever coveted?


Have you ever stolen anything?
Irrespective of value? Music, software, food in the fridge, not returned something, not paid a bill/ loan.
1 Cor 6:10 Be not deceived…neither thieves, nor covetous, nor extortionists will inherit the kingdom of God.
---
Have you ever committed murder?
Mat 5:21You have heard that it was said by them of old time, You shall not kill; and whosoever shall kill will be in danger of the judgment: 22 But I say unto you, That whosoever is angry with his brother without a cause will be in danger of the judgment: and whosoever will say to his brother, Raca, [a senseless, empty headed man]will be in danger of the council: but whosoever will say, You fool, will be in danger of hell fire.
Have you ever used God's name in vain?
Deut 5:11 You shall not take the name of the LORD your God in vain: for the LORD will not hold him guiltless that takes his name in vain.
---
Deut 5:7 You shall have NO other gods before me.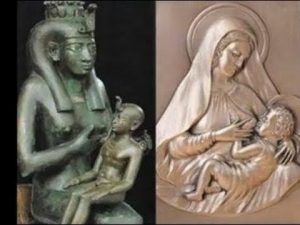 Deut 5:8 You shall not make thee ANY GRAVEN IMAGE, or any likeness of any thing that is in heaven above, or that is in the earth beneath, or that is in the waters beneath the earth:
Deut 5:9 You shall not bow down yourself unto them, nor serve them: for I the Lord your God am a jealous God, visiting the iniquity of the fathers upon the children unto the third and fourth generation of them that hate me
Rom1:22Professing themselves to be wise, they became fools,
Rom 1:23 And changed the glory of the uncorruptible God into an image made like to corruptible man, and to birds, and four footed beasts, and creeping things.
Rom 1:24 Who changed the truth of God into a lie, and worshiped and served the CREATURE more than the CREATOR, who is blessed forever. Amen.
---
Hab 2:19 Woe to him that say to the WOOD, Awake; to the dumb STONE, Arise, it shall teach! Behold, it is LAID OVER WITH GOLD AND SILVER, and there is no breath at all in the midst of it.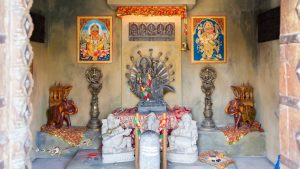 Deut 4:28 The work of men's hands, wood and stone, which neither see, nor hear, nor eat, nor smell. [from such turn away]
Deut 4:19 lest you lift up your eyes to heaven, and when you see the Sun, and the Moon, and the Stars, even all the host of heaven, you should be driven to Worship them, and Serve them
NO OTHER GOSPEL
Gal 1:8 But though we, or an ANGEL FROM HEAVEN, preach any other gospel unto you than that which we [apostles] have preached unto you, let him be accursed.
Gal 1:9 As we said before, so say I now again, if ANY MAN preach ANY other gospel to you than that you have received, let him be accursed.
---
Lev 26:1 You shall make NO IDOLS nor GRAVEN IMAGE, neither REAR UP A STANDING IMAGE, neither shall you SET UP [ANY] IMAGE OF STONE IN YOUR LAND AND BOW DOWN TO IT: for I am the LORD your God.
Deut 5:9 You shall not bow down yourself unto them, nor serve them: for I the Lord your God am a jealous God
Deut 17:3 [For you have] gone and served other gods, and worshiped them, either the sun, or moon, or any of the host of heaven, which I have not commanded!
---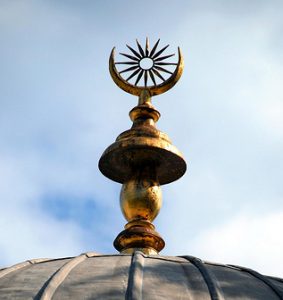 Babylonian Symbols
Sun & Moon worship and their identifying symbols date back to Babylonian culture where Nimrod was represented by the sun and bull horns and Semiramis was represented by the moon.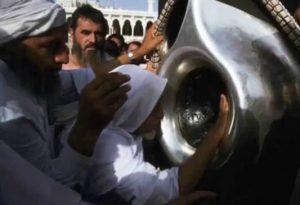 Black Meteor Enshrined in Silver

Allah said, "Touching them both [the Black Stone and al-Rukn al-Yamani] is an expiation for sins." (Narrated by al-Tirmidhi, 959)
Look to Isa in the Quran for your salvation for He is the judge on the Day of Resurrection.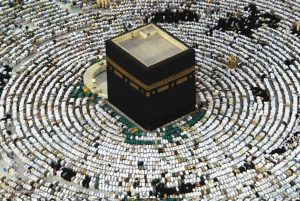 Do Not Bow Down
The eastern cornerstone of the Kaaba, the stone building towards which Muslims pray, in the center of the Grand Mosque in Mecca, Saudi Arabia. See Bible Predicted Muhammad & Islam

---
God's Way of Forgiving Sins
Col 1:13 [It is YHWH] who has delivered us from the power of darkness, and has translated us into the kingdom of his dear Son: 14 in whom we have redemption through HIS blood, even the forgiveness of sins.
Rom 3:22 Even the righteousness of God which is by faith of Jesus Christ unto all and upon all them that believe: for there is no difference:23 For all have sinned, and come short of the glory of God;
Rom 3:24 Being justified freely by his [YHWH's] grace through the redemption that is in Christ Jesus:25 Whom God has set forth to be a propitiation[sacrifice] through faith in his blood, to declare his righteousness for the remission of sins that are past, through the forbearance of God;
26 To declare, I say, at this time his righteousness: that he might be just, and the justifier of him which believes in Jesus.27 Where is boasting then? It is excluded. By what law? of works? Nay: but by the law of faith.
Is 43:25 God says, "I, even I, am He who blots out your transgressions for My own sake; And I will not remember your sins."
Josh 24: 20 If you forsake the Lord and serve foreign gods, then he will turn and do you harm and consume you, after having done you good." 23 He said, "Then put away the foreign gods that are among you, and incline your heart to the Lord, the God of Israel."
---

Have you always honored and obeyed your parents?
Exo 20:12 Honor your father and your mother: that your days may be long upon the land which the Lord your God gives you. [The only commandment given with a promise]
Have you kept every Sabbath Holy?
Deut 5:14 The seventh day is the Sabbath of the Lord your God: in it you will not do any work, you, nor your son, nor your daughter, nor your manservant, nor your maidservant, nor your ox, nor your ass, nor any of your cattle, nor your stranger that is within your gates; that your manservant and your maidservant may rest as well as you.
---
Hope for the future
James 2:10 Whosoever shall keep the whole law, and yet offend in one [point], he is guilty of all.
Rom 3:23 For All have sinned, and come short of the glory of God
Rom 6:23 The Wages of sin is death but the FREE GIFT of GOD is ETERNAL LIFE through Christ Jesus our Lord.
Rom 5:8 God commended his love toward us, in that, while we were yet sinners, Christ died for us
John 3:17 For God did not send his Son into the world to condemn the world, but that through him the world might be SAVED. 18 He that believes on him is not condemned: but he that does not believe is condemned already, because he has not believed in the name of the only begotten Son of God.
Learn more about Faith In Grace, Not Works and more on God's Saving Grace